Pre 2005
Various Wrongtown members camped with different theme camps from 1999-2004. Most of us already knew each other outside of the burn, mainly through Berkeley, but didn't camp together.
Teknoasis (2005)

2:00 and Gestalt – (Sound Camp)
The first theme camp of the core group, led by Marshal with Swat Sound, that has since become Wrongtown. Campmates were from California and Japan.
Jungle Jym (2006)
5:15 and Eager (Social Theme Camp)
Andy met Jamie from Jungle Jym the year before, and brought most of the Wrongtown contingency from California and Japan to camp with Jungle Jym from Denver, CO.
Dustfish (2007)
9:00 and Esplanade (Entertainment Camp)
Marshal and his contingency provided sound for this Iconic camp. First use of Carports Canopies and Domes.
Family of Friends (2008)
4:35 and Corvair (Social Theme Camp)
The crew fragmented into different camps, but the most Wrongtown element camped here. This was the first year we had Aussies and got the idea for a trampoline.
Wrongtown (2010)

7:00 and Baghdad (Renegade Sound Camp)
First renegade year and first year we came up with the name Wrongtown. What amazing crew. This was the defining year, in terms of primary structural appearance, for all subsequent years at Wrongtown. A beacon, carports, trampoline, and sound system.
Wrongtown (2011)
6:35 and Coming Out (Renegade Sound Camp)
Second renegade year. Camped across the street from Wet Dream / Salmon Camp, from the Dustfish 2007 crew.
BRC3PO (2012)

3:00 Plaza (Post Office)
The Wrongtown crew camped as a pod of 12 at the post office. This was the year we commemorated the Fukushima Disaster at the Temple.
Wrongtown (2013)

7:15 and Consumer (Climate Studies Tower)
Renegade element of the Antenna Camp. This was the coming together of multiple camps that stemmed from the orginial Teknoasis and Dustfish crews, along with some new people from Oakland, with people from Australia, Japan, Germany, Canada, and the US. The antenna camp from Oakland was the umbrella camp for all of us. There was a ceremony and offerings for Rel at the Temple.
Wrongtown & Phil in the Blank Village (2014)
7:45 and Cinnamon (Entertainment Village)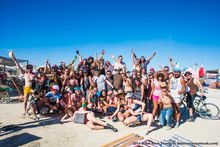 Our first year as a "village." We camped with our sister camp and had more projects than ever, including a stage, djs, musicians, performers, multiple shade structures, a flame effects sculpture, a memorial bar for the late Heinz Roempke. There was a ceremony and offerings for Heinz at the Temple.
"Venus Lift" Mega Mikoshi (2015)

5:30 and Ersatz (Art Support Camp)
A few key Wrongtown members helped to support an art project by Japan Regional called Mega Mikoshi, which was a portable shrine that could be seen carried around the man during peak evening hours.
Wrongtown and The Dream Machine (2016)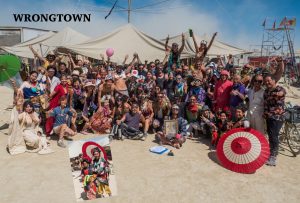 6:45 & Arno (Art Support and Chillout Space)
We officially returned as a camp to support the Dream Machine Guild of  Japan Regional. It was the largest and most diverse camp to date, with campmates from Japan and international festies from Australia, Canada, Italy, and Saudi Arabia. We also had crews of newbies and veterans to Wrongtown, representing Los Angeles, San Francisco, Oakland, New York, and other parts of the country including Minnesota, Wisconsin, North Carolina, and Colorado, for a total of 80 people. With a camp this big, we were able to get a semi trailer for long-term camp storage near Black Rock City, improve our communal shade, add a viewing platform, and expand our infrastructure.
Wrongtown (2017)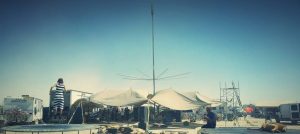 2:15 & Dance (Global Sound Camp)
In 2017 we had people from 14 different countries – a third from Australia, a third from Japan, and the rest from the U.S. and elsewhere. We hosted an international meetup, and we're in Sound Camp zone again for the first time since 2005. So we brought out the full sound system had some amazing parties and rocked our chill area. Major improvements include purchasing a camp truck, fully funding our own art projects, and created the new website.
Wrongtown (2018)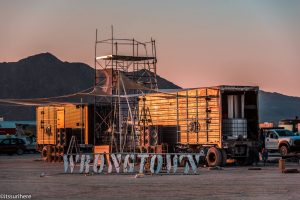 2:00 & HAL (Sound Camp and Sports Arena)
In 2018 we hosted the Hawaii Fire Arts Conclave and other flow arts enthusiasts.  Topping out at a 137 campmates this is and will probably be our largest year.  We had nightly DJs, Spin Jams and Wheelchair Jousting.  We also introduced the Brawndo bar and "Sweet Memories" coffee bar in the mornings.
This was again another record in diversity, adding people from Chile, Norway,  Argentina and Poland.
Our major improvements for 2018 include a new wedding tent for the kitchen, a fresh and grey water system with 6 IBC totes, pumps and the start of a plumbing system with a shower robot to meter shower usage for the week.  We also added a second semi trailer for storage in Empire.
Wrongtown (2019)

4:00 & Hyacinth (Under New Management)
We did it all!! It was a bit of an interesting year, a portion of Wrongtown left to start a new camp with different goals. With that we still hit a population of 110 and welcomed visitors from 19 different countries making it the most international year ever. This was our first year hosting daily meetings and were able to acculturate our 66 virgins, and had a lot of great moments while keeping everything running clean and smooth! We kept key elements of the camp from 2018 like the Brawndo/Sweet Memories Bar. We also pushed our infrastructure hard and only broke the showers!
New elements this year included the frontage flag project and the fresh/grey water system with 3 basin sink and plumbing.
We really hit the sweet spot with this year and can't wait to make it back with new offerings …
Wrongtown (2022)

What a fucking shitshow! … Damn we were out of practice! But even bad sex is still pretty good … right?
We came and did it! It was still a lot of fun but we broke everything, the generator, some RVs, a fridge, some people and somehow it was still a great time!
Despite this being a practice run after 2 years off we still continued the tradition of 2019, we had 102 people from 22 countries! This year was also the most locals at the same time? I guess it was the year of the Buzzkillington, James brought all his friends and family which upped the US demographic to 38 people(it helps to have locals!)
This year we tried to bring Asura, unfortunately we had issues with the chassis and the build crew was overworked so most likely 2024. To commemorate Asura we had Origami classes culminating in a lesson to fold Asura the three headed crane. We did continue our offerings from 2019 … We had the Sweet Memories Coffee bar, the Brawndo bar, Wheelchair Jousting, the Burnninja meetup and tons of good times!